---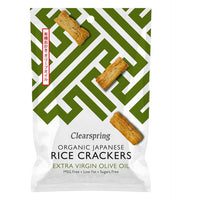 Ingredients: Glutinous rice* (87%), extra virgin olive oil* (7%), sesame seeds* (4%), nori sea vegetable, sea salt. *organically grown
Made in a factory that also processes products containing gluten, soya, molluscs, crustaceans, fish, eggs, and milk.
These light and crispy rice crackers are ideal for snacking on your own but also perfect for sharing. Made in Japan by expert producers using the finest organic ingredients.
These delicious, wheat-free rice crackers are traditionally made in Japan using special organic sweet rice and natural seasonings. They are sugar-free and do not contain flavour enhancers, colourings and preservatives.