---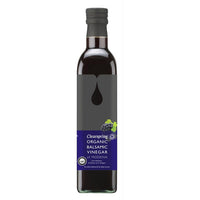 Ingredients: Wine vinegar*, concentrated grape must*.
*organic
6% acidity. Contains no alcohol. Contains no preservatives so harmless vinegar solids may develop over time.
Clearspring Organic Balsamic Vinegar is produced by the Mengazzoli family in Modena, using the centuries-old traditional process.
This involves painstakingly selecting the finest organic Trebbiano grapes on the vine, before gently simmering the juice to concentrate its essence, blending it with their finest wine vinegar, and ageing the resulting mixture in wooden kegs.
Friendly rivalry exists between different producers in the choice of woods used to perfect the method of ageing balsamic vinegar. Some favour cherry, mulberry, chestnut or juniper, but the Mengazzolis prefer the subtle aroma of bay oak and larch.
Caramel features on the ingredient list of many balsamic vinegars, but is notably absent from Clearspring's vinegar. It is used as a cheap, quick way to increase a vinegar's sweetness, colour and density, something that Clearspring's balsamic vinegar achieves through natural ageing.
Use Clearspring Organic Balsamic Vinegar, with its complex sweet and sour tastes, to add depth of flavour to dressings, dips, sauces and marinades.