---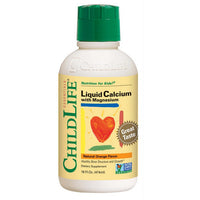 ChildLife Essentials® Liquid Calcium with Magnesium contains Calcium, Magnesium, Zinc and Vitamin D – the primary nutrients that help support healthy bone growth and development for children and today's diets already lack optimal levels of nutrients.
Vitamin D affects virtually every cell and tissue in your body and is important for a healthy functioning immune/respiratory system and the health of your bones/teeth.
Ingredients 
Vitamin D3 (as Cholecalciferol), Calcium (as Calcium Citrate), Magnesium (as Magneisum Citrate), Zinc (as Zinc Citrate), Purified Water, Fructose, Citric Acid, Natural Flavors, Xanthan Gum, Potassium Sorbate (to preserve freshness).