---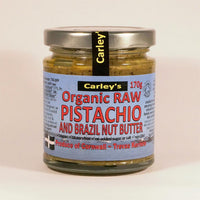 A vibrant green Raw Pistachio & Brazil Nut Butter,
Carefully cool milled to a rich, smooth  butter. 70% Spanish selected Kerman Pistachios grown in beautiful Spain by our friends at Jade Pistachios, we add 30% raw Bolivian Brazil nuts. Delicious to make ice cream or smoothies and great in flapjacks too.
Nutritious value
Pistachios are mineral, fibre and protein rich with very high levels of valuable vitamin B6.
Brazil nuts are a nutrient-rich and tasty nut that can be enjoyed as a snack or added as a butter to various dishes. They are an abundant source of essential nutrients, such as vitamin E, selenium, magnesium, phosphorus, copper, and zinc, as well as protein, fibre, and healthy unsaturated fats.
Amazon rainforest conservation
The nuts we use are collected from wild trees that grow naturally in the Amazon rainforest. The nuts are collected by local communities and cooperatives using traditional and sustainable methods. The harvesting of Brazil nuts is an incentive for local communities to protect and conserve the Amazon rainforest. When local communities benefit economically from the forest, they are more likely to protect it from deforestation, illegal logging, and other threats.
Carefully cool milled to a rich, smooth and luxurious butter. 70% Spanish selected Pistachios with 30% raw Bolivian Brazil nuts.
We don't add salt to any of our nut or seed butters, easier to add it than to take it away! If you prefer a touch of salt simply sprinkle a bit into your jar then stir it through.
Vegan
No palm fat
Gluten Free
No added salt
No added sugar
Nothing artificial
No emulsifiers.
No GM
100% Certified organic.