---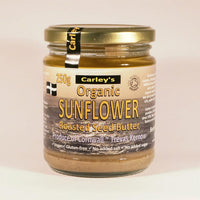 Our organic Roasted Sunflower Butter is a carefully blended mix of lightly roasted sunflower seeds and cold pressed sunflower oil. Simple, savoury, healthy and delicious!
Our sunflower seed butter provides an excellent source of magnesium, vitamin E and selenium. Add a little salt to taste if required!
Just two Ingredients: ( * = organic / bio / øko / eko ),
GB: Freshly roasted Sunflower Seeds* (82%), cold-pressed oil sunflower oil*,
NL: Zonnebloempitten*, zonnebloemolie* k-p
FR: Graines de tournesol*, huile de tournesol* p-f,
DE: Sonnenblumensamen*, Sonnenblumenöl* k-p,
DK/N: Solsikkefrø*, solsikkeolie* k-p.
No common allergens, Pas d'allergènes communs, Geen algemene allergenen, Ingen almindelige allergener, Keine gemeinsamen Allergene
Vegan
No palm fat
Gluten Free
No added salt
No added sugar
Nothing artificial
No emulsifiers.
No GM
100% Certified organic.