---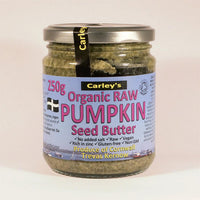 Our organic Raw Pumpkin Seed Butter is a carefully blended mix of mineral rich pumpkin seeds and cold pressed pumpkin seed oil. Simple, savoury, healthy and delicious!
Pumpkin seeds are a very good source of the minerals zinc, phosphorus, magnesium, manganese, copper and iron. We make this product by cool milling whole raw pumpkinseeds to a fine texture then adding vibrant green cold pressed pumpkin seed oil.
Just two raw ingredients: (* = organic / bio / oko / eko ) GB: Pumpkin seeds* (74%), cold-pressed pumpkinseed oil*.
FR: Graines de poitron*, huile de poitron pressée à froid*. NL: Pompoenpitten*, Koud geperste pompoenpitolie*.
DK: Græskarkerner*, Koldpresset græskarkernerolie*. DE: Kürbisamen*, Kaltgepresstes Kürbisamenöl*.
No common allergens, Pas d'allergènes communs, Geen algemene allergenen, Ingen almindelige allergener,
Keine gemeinsamen Allergene. A great source of zinc. Nutritious dark pumpkinseed oil will separate, just stir back in.
We don't add salt to any of our nut or seed butters, easier to add it than to take it away! If you prefer a touch of salt simply sprinkle a bit into your jar then stir it through. One exception is our new Organic Smokey Chilli Peanut Butter which we make with a touch of natural seasalt.
Vegan
No palm fat
Gluten Free
No added salt
No added sugar
Nothing artificial
No emulsifiers.
No GM
100% Certified organic.