---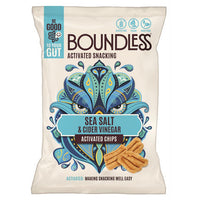 Sea Salt and Cider Vinegar Flavour Sprouted Sorghum Snacks
Be Good to Your Gut; Gluten Free; Vegan; High Fibre
Our chips wouldn't be half the snack they are without this guy!
A sprinkle of sea salt and a kick of tangy cider vinegar. You can't beat a classic.
We make real snacks with real ingredients for real people - snacks that taste good and do good.
What's activated? We take great ingredients and make them even better. With a little TLC, our grains are ready to unlock their impressive range of nutrients. The method is simple, but mighty. Flood: Our ancient grains are soaked in water to kickstart Mother Nature's germination process. This is where the magic starts.... Activate: By reducing the levels of Phytic Acid, we unleash the goldmine of nutrients previously locked away. It's literally next level snacking. Crunch: Born bold in flavour, we could never forget our signature crunch. Go on, get stuck in....
Ingredients 
Sprouted Sorghum (48%), Yellow Pea Flour, Sea Salt and Cider Vinegar Flavour Seasoning (10%) (Rice Flour, Suffolk Cider Vinegar Powder, Natural Flavouring, Acid ; Citric Acid, Salt, Sea Salt, Apple Powder), Sunflower Oil, Maize Flour, Calcium Carbonate
Always read the label before use