---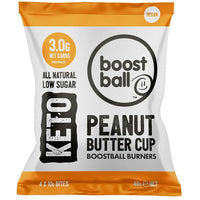 Our Boostball Burner Bites only contain natural ingredients.
With 4x Bites packed in a grab and go format, these Keto Bites are the perfect on-the-go snack!
Imagine a cup filled to the brim with delicious creamy Peanut Butter, yup we nailed it!
Peanut Butter fans we hear you loud & clear! This insanely delicious natural wonder is fit for any keto diet, yet a tantalising frenzy for anyone anytime of the day! We've taken it low with the carbs & even lower with the natural sugar! Plus these little delights are 100% vegan! I mean….!
Ingredients 
Organic Cacao Butter (20.3%), Desiccated Coconut, Creamed Coconut, Toasted Coconut Chips, Peanut Butter (Peanuts) (10%), Peanut Powder (Peanuts) (7%), Peanuts (6.6%), Cacao Powder (4%), Natural Sweetener, Erythrithritol, Organic Brown Rice Protein, Organic Tapioca Fibre, Coconut Flour, Coconut MCT Oil Powder (Medium Chain Triglycerides), Natural Emulsifier,: Sunflower Lecithin, Pink Himalayan Salt, , Natural Flavouring, Natural Sweetener: Stevia