---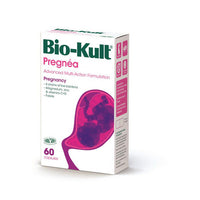 Bio-Kult Pregnéa is scientifically developed to support women before, during and after pregnancy. Our advanced multi-strain formulation contains a number of vitamins and minerals which contribute to normal fertility, maternal tissue growth during pregnancy, the normal functioning of the immune system and a reduction in tiredness and fatigue. Helping you to look out for number one and two.
Ingredients
Magnesium citrate, vegetable capsule (hydroxypropyl methylcellulose), live bacterial strains (milk, soya), vitamin C (ascorbic acid), zinc citrate, vitamin D3 (as vitamin cholecalciferol), folic acid (as (6S)-5-methyltetrahydrofolic acid, glucosamine salt (a source of folate)).
Live bacterial strains
Lactobacillus plantarumPXN® 47™,Bifidobacterium longumPXN® 30™,Lactobacillus rhamnosusPXN® 54™,Lactobacillus helveticus PXN® 35™,Bifidobacterium bifidumPXN® 23™,Lactobacillus delbrueckiissp.bulgaricusPXN® 39™.
Allergen advice
For allergens, see ingredients list in bold. Why do we use milk and soya? Milk and soya are used in the fermentation process. The good news is that the content is at a level that would not affect lactose intolerant sufferers.