---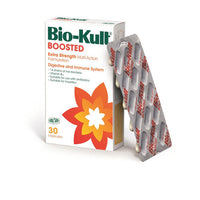 Bio-Kult Boosted is scientifically developed to target your immune system, as well as your digestive tract. Our advanced multi-strain formulation contains vitamin B12 which contributes to normal function of the immune system and supports you whether you're taking antibiotics, travelling or supporting a healthy lifestyle - A boost when you need it most.
Ingredients
Bulking agent (microcrystalline cellulose), live bacterial strains (milk, soya), vitamin B12 (methylcobalamin), vegetable capsule (hydroxypropyl methylcellulose).
Live bacterial strains
Lactobacillus paracaseiPXN® 37™,Lactobacillus plantarumPXN® 47™,Lactobacillus rhamnosusPXN® 54™,Bacillus subtilisPXN®21®,Bifidobacterium bifidumPXN® 23™,Bifidobacterium brevePXN® 25™,Bifidobacterium longumPXN® 30™,Lactobacillus helveticusPXN® 35™,Lactococcus lactisssp.lactisPXN® 63™,Streptococcus thermophilusPXN® 66™,Bifidobacterium infantisPXN® 27™,Lactobacillus delbrueckiissp.bulgaricusPXN® 39™,Lactobacillus helveticusPXN® 45™,Lactobacillus salivariusPXN® 57™.
Allergen advice
See ingredients list in bold. Why do we use milk and soya? Milk and soya are used in the fermentation process. The good news is that the content is at a level that would not affect lactose intolerant sufferers.