---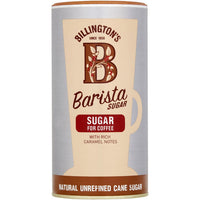 Our unrefined sugar has been very carefully produced to lock in, rather than refine out, the natural molasses of the sugar cane. It is this difference which gives Billington's sugar its unique richness, depth of flavour and colour.
Unrefined demerara sugar for coffee specially selected for its rich caramel notes, deliciously complementing coffee Billington's is the difference you can taste.
This sugar naturally contains molasses, which can cause the sugar to harden.
Give the pack a good shake or break it up with a spoon.
Barista Sugar for Coffee
With rich caramel notes
Natural unrefined cane sugar
Suitable for Vegetarians & Vegans
Produce of Mauritius