---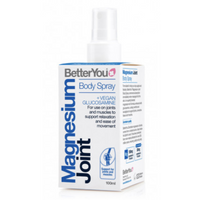 When BetterYou Zechstein magnesium chloride is combined with glucosamine, menthol and eucalyptus oil, it results in effective relief of joint disconnect, muscle stiffness and cramping.
Absorption commences immediately when massaged into the skin and the source of magnesium has been naturally purified for over 250 million years to ensure it is free from man-made pollutants and heavy metals.
Ingredients:
Aqua (water), magnesium chloride, PEG-40 hydrogenated castor oil, acetyl glucosamine, propylene glycol, menthol, eucalyptus globulus leaf oil, limonene.
Natural source
Free from pollutants
Free from heavy metals