---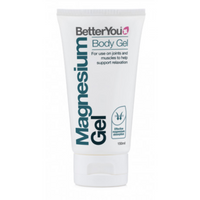 BetterYou Magnesium Gel provides a regulated release of magnesium for sustained delivery, making it ideal for use during exercise and after exercise.
A highly concentrated formulation, perfect for those looking to quickly and effectively raise their magnesium levels. Just a teaspoon of gel delivers 500mg of magnesium chloride. 
The targeted application is ideal for use on joints and muscles. Once applied and massaged into the skin, absorption commences immediately helping support relaxation and overall wellbeing.
BetterYou Zechstein Inside® magnesium has been naturally purified over 250 million years and is free from man-made pollutants and heavy metals.
Ingredients:
Concentrated solution of Zechstein Inside® magnesium chloride hexahydrate (30% concentration), hydroxy propyl starch phosphate*.
*Gelling agent. (A naturally derived starch modified to work in a high salt solution.)
Natural source
Pure formulation
Free from pollutants
Free from heavy metals