---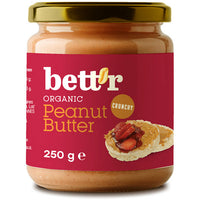 Bett`r Peanut Butter, that doesn`t get hard!
Give it a try because its:
– 100% Natural & Organic
– Made of high quality peanuts
– Super smooth thanks to the new technology for fine grinding of the nuts
– No additives – 100% peanuts inside
– Superb creamy and tasty
We all love nut butters! But how many times you have come to the impossible task to stir a super hard and stiff nut butter?
We have solution for you! Bett`r Butters are so smooth and fine so you can enjoy them only with a spoon.
You can spread this delicious and super fine peanut butter on a slice of bread and enjoy the irresistible taste, or you can have it American style with jelly. If you want to surpass yourself, add pieces of banana!

Ingredients
organic roasted blanched peanuts (100%).
May contain traces of sesame seeds and nuts.
Organic certification of the product by BG-BIO-22