---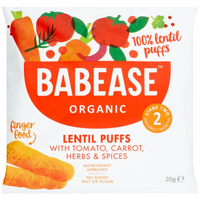 Organic, 100% Lentil puffs, Finger food, Nutritionist approved, Gluten free, No added salt or sugar

At Babease, we believe that introducing your little one to amazing tastes and textures at an early age is the best way to raise healthy, adventurous eaters. Our fuss-free recipes are bursting with new flavours to excite your baby's tiny taste buds on a daily basis.

These 100% organic lentil puffs are a perfect snack to fuel your little one and tingle their taste buds. Lightly coated with tomato, carrot and an exotic blend of herbs and spices for an adventurous bite.

Finger foods are a super important part of introducing solid foods. They help to encourage self-feeding, as well as supporting your little one to develop their hand-eye co-ordination! Please enjoy our puffs as part of a healthy balanced diet. Around 3 puffs make an individual portion. However, every baby is unique, so be guided by your instincts and your health care professional.
Ingredients:
Organic Lentil Flour (81%), Organic Sunflower Oil (8%), Organic Dried Tomato (4%), Organic Dried Carrot (4%), Organic Paprika, Organic Dried Onion, Organic Dried Parsley, Organic Dried Coriander, Organic Cumin, Organic Rosemary Extract (Organic Natural Extract)


Allergy Information:
May contain traces of milk and nuts