---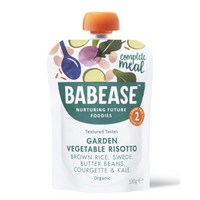 Garden Vegetable Risotto
A wonderfully warming vegetable risotto, this complete meal is crammed with earthy veg and nutty brown rice, with subtle touches of thyme.
Organic, Brown rice, swede, butter beans, courgette & kale, Complete meal, Nurturing future foodies, Textured tastes, No added salt or sugar, Gluten free, Dairy free
Stage 2 introduces a wider spectrum of flavours and textures, starting at around 7 months (or as early as 6). However, every baby is unique, so be guided by your instincts and your health care professional.
Directions:
Store in a cool, dry place. Once open, replace cap and keep in fridge for up to 24hours. Serve at room temperature, or heat by standing the pouch in hot water. Always check temperature before serving. Never microwave pouch
Ingredients:
Organic Cooked Brown Rice (28%), Organic Swede (21%), Organic Cooked Butter Beans 20%, Organic Courgette (15%), Organic Kale (7%), Organic Onion (6%), Organic Rapeseed Oil, Organic Garlic, Organic Parsley
Dairy free, Gluten free, No added salt or sugar