---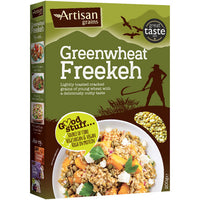 Wholegrain Freekeh are young grains of wheat that are harvested at their nutritional peak and lightly toasted. Unlike Greenwheat Freekeh, the grains are not cracked and remain whole.

With a nutty taste and wholesome texture, Freekeh makes a flavourful alternative to rice, couscous and bulgur wheat.

What is Freekeh?
Freekeh is the new 'ancient grain' hitting the UK. It's created from young green grains of wheat harvested at their nutritional peak before being dried and lightly toasted. It's versatile and deliciously satisfying with a delicate smoky flavour and it packs a nutritional punch.
Ingredients
100% Wholegrain Toasted Wheat (Gluten from Wheat)
Allergen Information
Contains Gluten, Contains Wheat
Dietary Information
Suitable for Vegetarians; Suitable for Vegans