---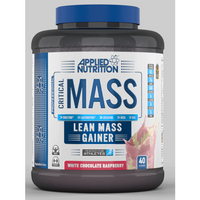 Reduced Sugar, High Protein. High Calorie, Carbohydrate Shake.
Added HMB, Glutamine, Leucine & Creatine Matrix. Added Fats: CLA & MCT Powder
Informed Sport Registered & Halal Certified.
Critical Mass is quite simply the UK's favourite and trusted mass gain supplement, it uses the highest quality of ingredients, all of which have been carefully selected for the ability to deliver quality Lean Mass Gainz allowing you to rack up the calories for your daily count.
New reduced sugar formulation contains 42g of both fast and slowly digested proteins per serving including ISO-XP 95% Whey Protein Isolate.
Ingredients:
Organic Ground Oats (Gluten), Maltodextrin, Protein Blend (MPI 90: Milk Protein Isolate, ISO-XPTM 95: Whey Protein Isolate Milk, WPC 80: Whey Protein Concentrate Milk),Fat Reduced Cocoa Powder, Creatine Matrix (Creatine Monohydrate 3g, Kre-Alkalyn® 2g Buffered Creatine Monohydrate), L-Leucine, Glutamine Peptides, CLA Powder (Conjugated Linoleic Acid), MCT (Medium Chain Triglycerides), HMB (Beta-Hydroxy Beta-Methylbutyrate), Natural Colouring, Natural Flavouring, Instantising Agent (Soy Lecithin), HICA (Alpha-Hydroxy Isocaproic Acid), ALA (Alpha Lipoic Acid), DigeZyme® Enzyme Complex (Amylase, Protease, Cellulase, Lactase, Lipase), Chromium (as Chromium Picolinate), Sweetener (Sucralose), LactoSpore® (Bacillus Coagulans).
For allergens, see ingredients in bold
Always read the label before use