---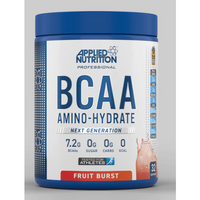 BCAA Amino-Hydrate is an intra-workout & recovery drink-mix that all athletes, bodybuilders, powerlifters, boxers and general keep fitters should be consuming during every workout.

BCAA Amino-Hydrate was formulated to deliver maximum amounts of highly tested Branch Chain Amino Acids that will maximise your training intensity and longevity while flooding your body with a blend of re-hydrating electrolytes and salts with added citrulline for intra-workout pump.

Fuelling your body's engine during your workout is the key to progress.*

KEY BENEFITS
Batch tested for athletes by Informed-Sport
Replenish electrolytes
Featuring citrulline (intra-workout pump)
Easy Mixing with the Applied shaker for extra water intake
Halal certified product

*Vitamin B6 contributes to a normal energy-yielding metabolism.

SUGGESTED USE

Mix 1 scoop (14g) with 500ml of water and shake well. Consume during exercise on training days or throughout the day on non-training days.

Scoops are estimate only, weighing scales are recommended.
Ingredients: 
BCAA (2:1:1) (L-Leucine (26%), L-Isoleucine (13%), L-Valine (13%)), L-Glutamine, L-Citrulline DL-Malate (2:1), Trisodium Citrate, Tripotassium Citrate, Tricalcium Phosphate, Anti-Caking Agent (Silicon Dioxide), Flavouring, Sodium Chloride, Acidulant (Citric Acid), Sweetener (Sucralose), Vitamin B6 (Pyridoxine HCL), Colour (Beetroot Powder).