---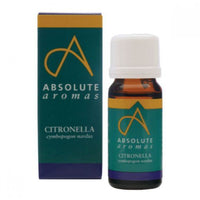 Country of Origin: Sri Lanka
Plant Family: Poaceae (Gramineae)
Method of Extraction: The oil is steam distilled from the dried or partly dried grass.
Main Theraputic Properties: Antibacterial, Antispasmodic, Digestive stimulant, Anti-inflammatory, Antifungal, Insecticide.
Contraindications: Non toxic. Do not use on sensitive or damaged skin.
Citronella has a powerful lemony aroma which blends well with all citrus and woody oils and is very widely used in household cleaning products and insecticides.
For a natural air freshener – add 3 drops of Citronella, 3 drops of Geranium and 2 drops of Pine to a clean plant spray filled with water, shake well and spray into the air. Avoid polished surfaces and pets.
Or, try 2 drops of Citronella, 2 drops of Cedarwood and 2 drops of Eucalyptus Citriodora in an oil burner or diffuser, this can help maintain an insect-free BBQ.